VRM Lookup Data for Ireland
---
Delivered via web services our vehicle identity lookup is triggered by a Vehicles' Registration Number or VIN (Vehicle Identification Number) and will return the following data in XML format (see example opposite).
Our Basic Vehicle Lookup Provides the Following;
Make
Model
Varient
Body Type
Transmission
Fuel Type
Colour
Year of Manufacture
Date of First Registration

Engine CC
Number of Doors
Number of Previous Owners
NCT Expiry Date
Tax Expiry Date
Chassis Number
Flexible Webservice
If you have a website, computer program or mobile application that would benefit from our data why not sign up for a free account with Benchmark Automotive and unlock your unrivalled source for vehicle data on any vehicle registered in Ireland or the UK.
There are many other datasets which can be added to the basic vehicle data outlined above. It's simply a matter of defining what's required for your business. "
– Michael Doran, Benchmark Technical Manager
Our highly advanced API can have the data you require up and running for your use in a matter of hours.
Arrange a FREE Demo »
Or contact us for more information
Case Study:
Topaz Energy
With over 350 locations nationwide Topaz is Ireland's largest fuel retailer. The company handles millions of transactions on an annual basis and maintains a high standard of compliance in retail excellence.
---
Fraud Prevention

Like anyone in retail, Topaz takes a dim view of those that avail of their product but aren't prepared to pay for the privilege. Managing each transaction on the forecourt requires discipline and a strong commitment to health and safety on the part of the shop assistant but there are times when a small minority of customers will take advantage of the company's trust.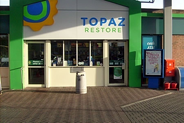 When a customer fails to make payment for a fuel purchase it is often necessary to inform An Garda Siochana. One vital piece of information included in the official report is the registration number of the vehicle involved and Topaz chose Benchmark Automotive as their key partner for the validation of this important piece of data.
Having access to reliable data from Benchmark is an important part of our forecourt security. Alerting An Garda Siochana to the possibility of a fraudelant number plate can be of major assistance in the official enquiry "
– Alan Landy, Lean Retail Manager
Arrange a FREE Demo »
Or contact us for more information
Key Features
A Reliable web service that's both accurate and quick to respond

Instant results via class leading and reliable web services

A scalable solution where custom data sets can be added at any time.
An affordable and flexible pricing model that caters for any number of enquiries

Accurate data for improved efficiencies in a multitude of applications

Integrated with third party data providers like JATO, ABI, Insecom & More
Vehicle Identity Data by XML
Use our API to submit a registration number and receive all your identity data by XML (example below).
<

VARIENT

>

FLUENCE 1.5 DCI 110 TOMTOM E5

</

VARIENT

>

<

TRANSMISSION

>

MANUAL

</

TRANSMISSION

>

<

YEAR_OF_MANUFACTURE

>

2010

</

YEAR_OF_MANUFACTURE

>

<

REG_DATE

>

2007-10-09

</

REG_DATE

>

<

ENGINE_CC

>

1461

</

ENGINE_CC

>

<

NO_OF_PREVIOUS_OWNERS

>

2

</

NO_OF_PREVIOUS_OWNERS

>

<

NCT_EXPIRY_DATE

>

2011-10-08

</

NCT_EXPIRY_DATE

>

<

TAX_EXPIRY_DATE

>

2011-06-30

</

TAX_EXPIRY_DATE

>

<

CHASSIS_NO

>

VF1LZBD064293####

</

CHASSIS_NO

>
Click here to view this as pure XML
Get access to LIVE data »